Welcome to the Joyful Stars Blog Hop this month. I am so glad you can join us this month. If you have come from
Nancy's Blog
you are on the right track. It is a circular hop, so you can start anywhere and when you get back to the first blog you visited, you will know you have completed the hop. However, if you get lost along the way, just visit
Joyce's Blog
where you will find the list of participants. With Easter fast approaching and hopefully Spring not too far behind, I have been enjoying the new X7207B Penelope paper pack, X7207C Penelope Complements, C1638 Spring Critters and the coordinating "Thin Cuts" Spring Critters die Z3207. They can all be found in the new Seasonal Expressions. Those Spring Critters are just too cute! Sorry for the shadows on the photos. My light needs to be charged and I can not find the cord to charge it!
The front of the card uses the Z3193 Picture My Life White Overlay Cards. It is sandwiched in between the cardstock. The grass is cut using the Artiste Cartridge. It is on page 73 Accent 3 Shift cut at 1 1/4" for the front and 3/4" for the inside of the card.
Just look at all these adorable shapes that come in the Penelope Complement package!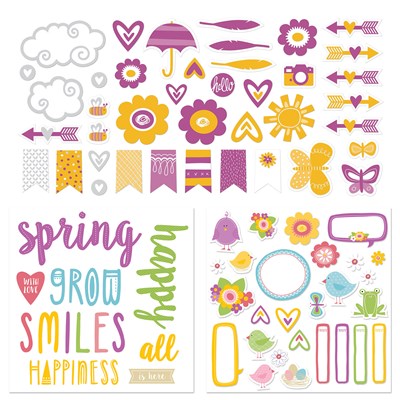 This is a side view of the easel card.
Now it is time to hop over to
Marie's Blog
to see her creation. Thanks so much for joining us!